My Quest for Impact Has Reached You – Growth, Innovation, Persistence
From Teaching to Copywriting to Marketing to You
I care about a lot of things. My hope is to get to impact them all before I die. But from the beginning, the written word has been at the center. I've been a reader, a learner, and a writer my whole life – books, media, screenplays, news, and more.
For my first attempt at changing the world, I was a high school teacher in an urban Seattle school. Math and chemistry. Had a lot of success, and a ton of challenges too. But that led to writing guest columns in the newspaper about education issues, an education blog site, a radio appearance on the Michael Medved show, and a still-unfinished goal of bringing a teacher's perspective into the education debates.
A desire to pursue more opportunities led me to copywriting – the direct response variety. Why direct response? Because it has impact. Measurable impact. I'm not interested in brand-centric, vague, image-obsessed advertising. Does it work? No one really knows from one ad to the next if one was truly "better" (when 'better' is defined as, "producing measurable growth," not that it made people laugh harder).
Marketing is the Body. Copywriting is the Blood.
But copywriting is pretty hard to separate from marketing. And I learned very quickly that many of my clients needed both. They thought they needed content. But really, you need strategic planning and someone to write the content that turns an idea into a profit-producing asset for their business or nonprofit.
Too many organizations hire marketers who don't know how to write. Or, put another way, there are a lot of marketing 'experts' out there, but very few who can actually implement their own ideas – assuming they're good ideas. But how do you know if an idea is good?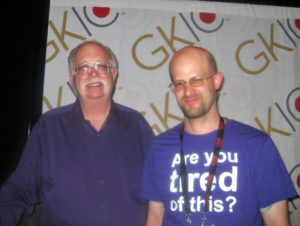 After learning copywriting at AWAI (and continuing to learn it), I dove into marketing, GKIC-style. What's GKIC? It's a direct-response marketing business that trains people like you and me how to grow our businesses and nonprofits using proven high-impact marketing and copywriting techniques. They teach what is commonly referred to as "Dan Kennedy" style marketing principles.
Who's Dan Kennedy? He's the guy in the photo there, next to me. He's also the 'K' in GKIC.
A-List Copywriting at Non-A-List Prices
The point is, I'm a Dan Kennedy Certified Copywriter for Info-Marketers, one of only about 100 in the world. I sought and achieved this status so I could learn from the best, and then use my new expertise to have an impact on your business.
And now I bring that kind of expertise to all my clients. They hire me for help with one aspect of their marketing, but they end up getting seven more ideas to go with it.
When you talk to me, you'll feel smarter.
Here's a few more certifications and memberships I've earned:
Hubspot Inbound Marketing Certified

Upwork Top Rated Copywriter

GKIC Gold Member

Former Info-Marketing Association Member

GKIC Power Lunch Member – Puget Sound Chapter (ask me about this – it's more than just a free lunch! It will transform your business)
Now, I'm the owner and founder of ProActive Content, LLC. And my skills have multiplied in just a few years from being able to write sales letters into much more, including:
Email marketing – my #1 copywriting specialty. See this page for more.
Basic on-page SEO. I'm not a technical SEO-ist, but anything the user can see, I know how to do.
Web page impact writing – sales pages, landing pages.
Web main page writing – home, about, primary website pages.
Lead generation content – blog writing, case studies, eBooks, special reports.
Video script planning and content, including video sales letters (VSLs).
Direct mail – post cards, sales and fundraising letters, and all related content.
Website Evaluations and Marketing Plans
and more…
Marketing is about impact. Copywriting is what makes the impact happen. It's the body and the blood that pump your business to life.
Have an impact. Work with a true expert in marketing and copywriting.
Not ready to talk yet? Learn more about direct response advertising from the "true master" – Jimmy McGill from Better Call Saul