Online Marketing Isn't a Funnel – It's a Rube-Goldberg Contraption
Look Below to Find the Web Marketing Tool That's Failing Your Customer Acquisition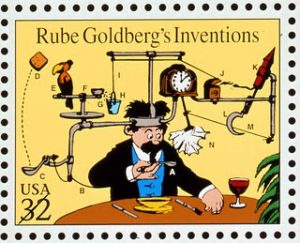 Funnels are smooth. Once the material enters the top, nothing can stop it from sliding down through the tiny opening at the bottom. Is your marketing smooth and effortless?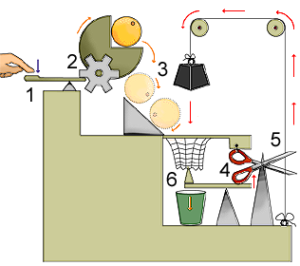 A funnel is the wrong image for marketing. A better one is a Rube-Goldberg machine. If you're not familiar with that term, these are those complex contraptions in which one step leads to another using some kind of mechanical process. Like a ball falls on a stick propped against a toy truck, and the stick launches into the air and lands on a dish that causes water to pour into a mug and in the end you get a cup of hot water.
Online marketing is like that. Lots of steps. Lots of places for breakdown to occur. All with the goal of getting new customers and keeping current ones.
Maybe you've got terrific SEO. Facebook and Adwords are bringing optimized traffic too. But when people show up at your website, no one takes your free trial offer. That's a problem of web conversions. Your copywriting or usability (or both) probably stink.
Or maybe conversions are great, but then hardly anyone moves up from the free version to the paid version. That's a flaw in your follow-up marketing.
The idea is, a breakdown at any point along the sequence of events causes the whole contraption to fail. For any internet-based business to succeed, you need a fully functional 'marketing contraption.'
Professional copywriting melded with direct response marketing tactics is usually what it takes to fix most online marketing breakdowns. You need continuous leads, a steady steam. And you need to re-market to your existing customers and leads. Use the process below to access direct response copywriting and marketing from ProActive Content.
Your Online Marketing Growth Plan
Scan the list of online marketing tools below
Choose the ones you need immediate help with.
Contact ProActive Content
SEO: Attract Free Traffic for Your Website
Get SEO-infused content (blogs, web pages) for your website.
Email Marketing: The Money Is In the List
Monetizing your list is what it means to have an online business. Get an email marketing strategy, and the copy to keep your customers buying from you again and again.
Blogs and Content Marketing: How to Give Value and Show Your Expertise
Getting leads requires more than traffic and SEO. It means giving value. Helping! Content marketing is how youearn your customers' business.
Video Sales Letters: Pure Direct Response Online Marketing
If high-impact, high-stakes direct marketing is right for your business, get your next VSL ready to go.
Webinars: Become an Industry Authority
Webinars can inform, engage, and sell. Explode your online business with your next webinar script.
Ebooks and Lead Magnets: The Proven Tools to Build Your List
Get it done! We will write your eBooks and other lead magnet content. Once these are done, you can use them for years.
Adwords and PPC: Make Direct Offers
Use Google and other search engines for your marketing. Have us write your pay-per-click ads and manage your campaigns.
Sales and Landing Pages: Make the Offer. Close the Deal.
Your whole marketing strategy depends on these key conversion pages.
Thank You and Upsell Pages: Get More Out of Each Customer
You are a business. So sell stuff. Then sell more stuff. Don't leave money on the table by neglecting these tools.
Online Marketing Toolbox: Learn About Email, Lead-Gen, and Expert Services You Can Use
We've come across a lot of experts and tools. Rather than find them all yourself, ask us and we'll point you to a few choices.
Wondering where social media marketing is? It's not here, because we don't do it. Not because it isn't valuable. It's just not something we specialize in. But there are several Expert Services we know of who excel at social media marketing. If you need help in this area of your online marketing, contact us and we can refer you to several superb choices.
Choose the online marketing tools you need to grow your business, and let's get writing!